---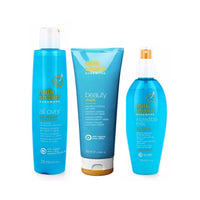 Sale
Milk_Shake Sun & More line of Summer haircare Pack ( 250ml + 200ml + 140ml )
Hair Direction Australia
Sale price $77.99 Regular price $89.99
Milk_Shake Sun & More line of Summer haircare Pack ,  which includes All Over Shampoo(250ml ), Beauty Mask( 200ml ) ,  and Incredible Milk  12 effects  (140ml ,
a leave-in treatment).
all over shampoo
 has a two-in-one cleansing and soothing formula for hair and body. It contains muru muru seed butter, quinoa proteins, hibiscus seed oil, organic argan oil, vitamin E and UV filters. I must admit that I have been using it only as a hair shampoo. It leathers nicely and rinces easily, but it leaves my hair rather stiff to the touch and somehow tangled. I wouldn't be able to comb it easily if it weren't for the hair mask which is used after shampooing.
The intensive Beauty mask
 combines conditioning ingredients with natural extracts, vitamin E and UV filters to soothe all the damaging effects. It is applied on clean dump hair and left on for 2-3 minutes after which it should be rinced well. The mask leaves hair soft and manageable, fighting the dehydration.
The Incredible milk
, a leave-in treatment for all hair types. It claims to have 12 incredible effects: it repairs, tames frizz, prevents split ends, protects from heat, gives manageability, detangles, gives incredible shine, gives body and volume, makes styling easier, protects and maintains colour, protects from UV rays and smoothens the cuticle. The treatment is applied on dump hair after you have rinced the shampoo and mask. The milk makes a huge difference (I have also used it with a different shampoo and conditioner and it has had the same effects). It made my hair look healthier immediately after the first use, giving it incredible shine, smoothness and elasticity.