Human Hair Extensions
- Nano Bead Hair Extensions
-Skin Tape Hair Extensions
-Twins Tape Hair Extensions
-Wef Hair Extensions
-Clip In Hair Extensions
-F28 Diamond Hair Extensions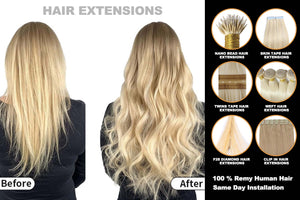 Professional Hair Product Retail and Wholesale
We offer the best solutions for hair. Coloring, Styling, Treatment and Extensions.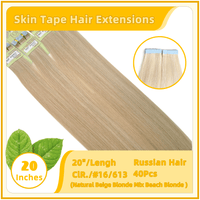 ---
PROFESSIONALl TRAADING ONLY
4 STEP WET BLEACH PROCESS & BLONDE HAIR EXTENSIONS
1. Your natural hair will be washed and thoroughly treated with the best-suited treatments to keep it healthy and clean.
2. While your hair is still wet, we very carefully apply the bleach, careful not to get the mixture on the scalp. Sheets of treatment paper is inserted in between each layer which will help the hair come out a gorgeous blonde while still healthy. Colour and toner can be applied after.
3. After a refreshing blow-dry, hair extensions can be attached to lengthen and volumize the hair.
4. Final touch-ups such as a trim and hair cream are added to keep the hair in an amazing condition, perfect for daily appearance and events.
(Note: The reason why we bleach your hair while it's still wet is because it refrains hair loss, it is a safer and healthier way to bleach your hair. Even if your hair is already quite damaged, unlike other salons, we will happily accept the challenge and give your hair the makeover transformation it deserves!)
---
Price on bleach $400 above (2 bleaches & 1 toning)
Price on blonde hair extension $ 800 above ( 20inches in 130 strands)
Images below:
Our store:
77 Hindley St
Adelaide, South Australia
Australia
Mon - Thu: 9:30am - 6pm
Friday: 9:30am - 8pm
Saturday: 9.30am - 6pm
Sunday & Public Holidays: CLOSED